May 25, 2017
Dick Connette To Perform At Brooklyn's Roulette On June 2nd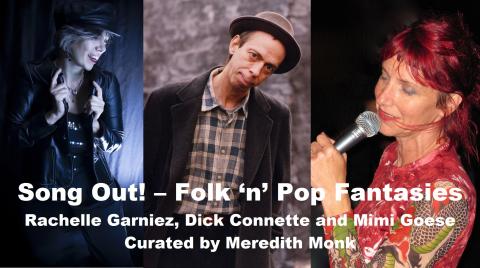 Song Out! Folk 'N' Pop Fantasies Concert.  Curated By Avant-Garde Music Pioneer Meredith Monk
Appearing at Roulette, one night only, Friday, June 2 @ 8 pm, Rachelle Garniez, Dick Connette, and Mimi Goese will perform new songs, together with Karen Waltuch (viola), Steve Elson (reeds), Kevin Kuhn (guitar, banjo), and Derek Nievergelt (double bass), and featuring guest vocals by Ana Egge and Suzzy Roche.
Garniez will be presenting a set of her own songs, putting her particular spin on jazz, soul, and r 'n' b, with a band especially assembled for the occasion.
Connette and Goese will premiere a group of songs with text by Emily Dickinson. In addition, Connette, assisted by Ana Egge and Suzzy Roche, will present repertoire from both Last Forever and his latest project, Too Sad for the Public, whose first CD, Vol. 1 – Oysters Ice Cream Lemonade will be released on StorySound Records June 16.
Roulette is located at 509 Atlantic Ave, Brooklyn. For more information, tickets, go to roulette.org or call (917) 267-0363