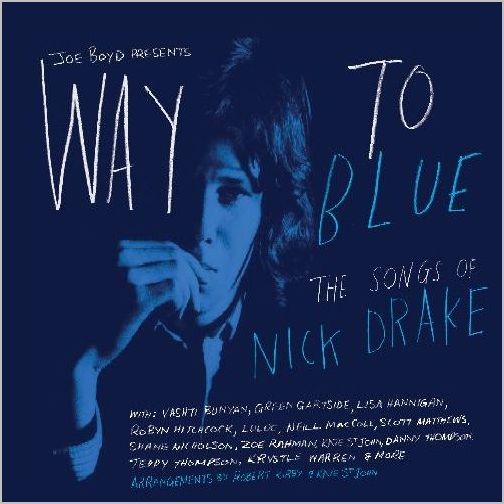 01. Things Behind The Sun - Luluc
02. Place To Be - Scott Matthews
03. Fruit Tree - Green Gartside (Scritti Politti)
04. Poor Boy - Shane Nicholson
05. Time Has Told Me - Krystle Warren
06. Parasite - Robyn Hitchcock
07. One of These Things First (instrumental) - Danny Thompson & Zoe Rahman
08. Which Will - Vashti Bunyan
10. Rider On The Wheel - Shane Nicholson
12. Saturday Sun - Luluc & Lisa Hannigan
13. When The Day Is Done - Scott Matthews
15. Pink Moon - Teddy Thompson & Krystle Warren
Various Artists
Way To Blue: The Songs of Nick Drake
Nick Drake's original producer, Joe Boyd, put together a series of concerts in the UK, Australia and Italy to celebrate Nick's greatness as a songwriter. The concerts are called Way To Blue and they have involved singers as diverse as Teddy Thompson, Green Gartside (from Scritti Politti), Robyn Hitchcock, Vashti Bunyan and Lisa Hannigan, as well as bass master Danny Thompson (who played on Nick's records), and the arrangements of Robert Kirby. These recordings are the edited highlights of concerts in Melbourne and London; the interpretations provide evidence, if such evidence was ever needed, of the timeless depth of Nick Drake's qualities as a songwriter. 
Over the years since Drake's death, Boyd has explored the possibility of producing an album in tribute to his songwriting. But despite many well-known artists wishing to participate, he always resisted, because it seemed the only practical way to accomplish it would be for each artist to supply a track recorded separately, with their own chosen musicians. Boyd felt that the only way to avoid the pitfalls of the typical Tribute Album would be to have everyone together for a week in a rural studio, backing each other with harmonies and guitar parts, creating an organic whole of an album. 
By performing Way To Blue fifteen times over the course of four years, he has accomplished something resembling his original dream. The songs have been honed and shaped over the course of time, and the spirit of togetherness among the Way To Blue company has proved inspiring to all participants. The result is an album with the quality of a studio production and the spontaneity of a live performance. 
Release Date: April 16, 2013
161-010